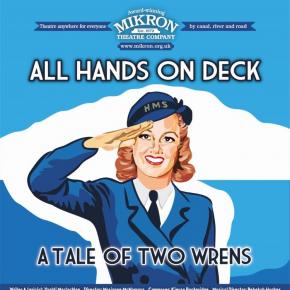 Come and join us for a summer's evening of fun and entertainment with the award-winning Mikron Theatre Company. If you have not heard of Mikron or been to one of their productions then you have missed a treat. The company comprises four actors, two shows, a narrowboat and a van, taking professional theatre to different and non-theatre venues, making each performance unique as they travel the length and breadth of the country from May to September.
This year they are taking audiences to the seaside with 'All Hands on Deck', a tale of wartime naval heroism and a love story between the brave women recruited for the WRNS in World War 2, to 'free a man' for the fleet.
'All Hands on Deck' at The Boat Inn is an unticketed event. A cash collection will be taken after the show.
As the performance is taking place in the garden of The Boat Inn, we would respectfully ask that own food and drink is not consumed on the premises so as not to damage the good relationship which exists between the company and our hosts for the evening. Food and drinks will be available to purchase. There should be plenty of garden chairs but you are welcome to bring your own seat or rug, and an umbrella if the weather looks threatening.
In order that we can make it a memorable night for OWF members and guests could we ask you to let us know in advance if you will be joining us please though no fee is payable to OWF on this occasion.
Donation on the night




The Boat Inn, Thrupp




Canal Road, Thrupp, Kidlington, OX5 1JY

There is a small pub car park, or park on the access road into Thrupp. Car sharing recommended.

Booking – we do not require any booking form or pre-payment for this event but please send an email to hello@oxfordshirewomensforum.co.uk so that we know you are coming and can keep an eye open for you.